Irish women who are pregnant or trying to become pregnant have been advised not to travel to Florida in the wake of reports of locally transmitted incidents of the Zika virus.
The Department of Foreign Affairs updated its travel advice after the first cases of Zika transmitted by mosquitoes on the US mainland appeared in the state.
Previous warnings against travel to South and Central America due to the virus also remain in place.
The Zika virus has been associated with a birth defect called microcephaly, which results in children being born with abnormally small heads and brain damage.
More than 1,650 Zika infections have been reported in the US, but four patients in Florida have tested positive for the virus and appear to be the first not linked to travel outside the US mainland
It is believed that the active transmission is happening in one small area in north Miami.
Zika is spread via mosquitoes and by sexual contact.
Florida has already seen almost 400 cases of Zika, all involving people who were infected while travelling to parts of the world where the virus is circulating.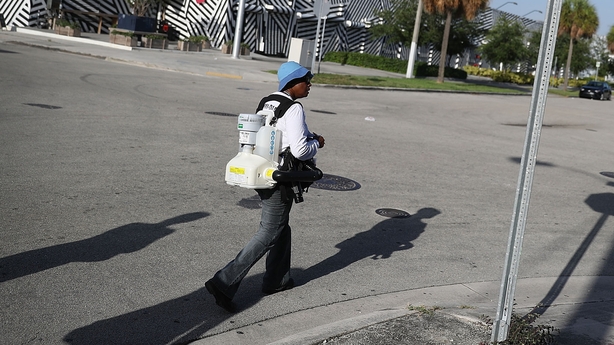 For Zika to become a homegrown virus in the mainland United States, a mosquito would have to bite a Zika-infected person and then bite another person, passing on the virus.
Health officials have warned of possible localised Zika outbreaks in the US, particularly since the virus has spread quickly throughout Central and South America and the Caribbean in the past two years.
However, mosquito control measures such as air conditioning, use of window and door screens and bug repellent are likely to prevent Zika from becoming established in the United States.